Featured Story
R. Douglas Whitman Appointed College of Education's New Interim Dean
BY SUSAN LAGROIS A new Interim Dean has taken over the helm of the College of Education, effective May 16, 2014. Appointed by Margaret E. Winters, Wayne State University Provost and Senior Vice President for Academic Affairs, R. Douglas Whitman, Ph.D., Professor in the WSU Department of Psychology, has agreed to serve as the college's interim dean until a...
Faculty, Staff & Programs
Congratulations to the Following Faculty Award Recipients
BY SUSAN LAGROIS In recent months, information has been received that we would like to share with readers regarding several College of Education faculty members who are recipients of various awards. We are pleased to honor and recognize them for their achievements in this issue of The Educator . Please join us in congratulating them. They are:...
Outreach & Engagement News
Prejudices and its Consequences: The Story of a Holocaust Survivor
BY ALLIA CARTER Partnering with the Community Chorus of Detroit and multiple school districts in metro Detroit, the College of Education hosted Samuel Marder, 83, professional violinist, author and Holocaust survivor. Mr. Marder was invited to Detroit as a featured guest artist in the Community Chorus of Detroit performances of the Verdi Requiem. The concert commemorates the...
News For Students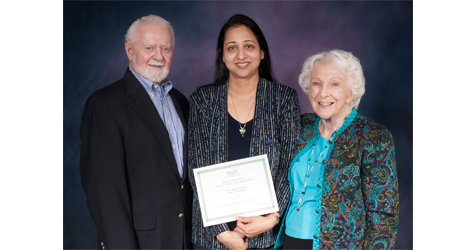 Record Scholarship Funds Awarded to College of Education Students
BY CAM LIEBOLD Over 200 guests, including donors and scholarship recipients, gathered in the atrium of Wayne State University's McGregor Memorial Conference Center on May 6 th for the annual reception when College of Education scholarship recipients were introduced. Dean Carolyn Shields served as emcee for the brief program that acknowledged special...
Alumni News
Teacher, Leader, Learner, Nerd
BY RUQQAYYA MAUDOODI & MARY WAKER Teacher Nicholas 'Nick' Provenzano spent most of his formative years in the city of Detroit before his parents moved to Livonia, MI. He currently serves as a teacher and curriculum specialist for the Grosse Pointe Public Schools in Grosse Pointe, MI. Nick has been teaching English and social studies for 11 years....