Featured Story
Careers in Education - Article Series What Can I do with a Degree in Instructional Technology?
By: LaSondra Dawn Careers in education are rewarding professions where individuals can give back and make a difference in the lives of others. Since opening its doors in 1881, the College of Education (COE) has prepared great urban educators for work both inside and outside the classroom. The COE offers certification and degree programs for everyone including those who already have...
Faculty, Staff & Programs
Wayne Urban Teacher Residency Program
By: Dr. Jennifer Lewis Wayne State University's College of Education recently launched TeachDETROIT, an innovative urban teacher residency program, in order to increase the number of highly trained, qualified and effective elementary and middle school teachers in Detroit schools. Nationally, urban teacher residency programs constitute a new and promising approach to teacher education....
Research
Recognizing Our Faculty in Research, Awards, Appointments and Publications
The Wayne State University College of Education is committed to research that contributes to the scholarly study of education as well as to the practical application of teaching and learning methodologies. Our research and community engagement demonstrate the scholarship of our faculty. The COE Office of Research started a research newsletter in December of 2012, with the purpose of the...
Outreach & Engagement News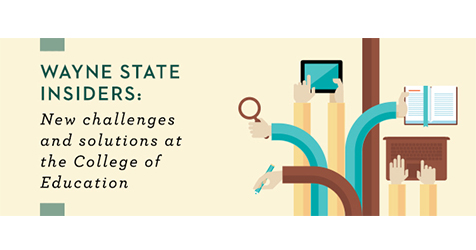 Teachers Make a Difference and Have the Opportunity to Change the Future
By: Erecenia Friday On Wednesday, March 25, 2015 educators and students from the Wayne State University College of Education presented at the Insiders event on cutting edge technology and the study of progressive education. The seminar was led by Dr. Kathleen Crawford-McKinney, Assistant Dean of Teacher Education Division (TED) who spoke to education training in an urban community. Dr....
News For Students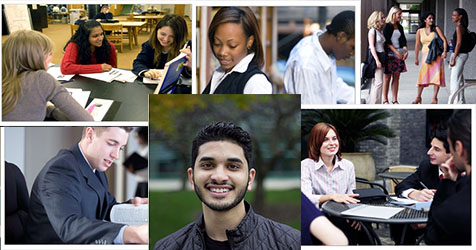 COE Student Voted Student Senate President in Emergency Election
By Chelsea Smith William "Will" Alexander, a College of Education student pursuing Spanish Education, is more than just a future educator. He is a change-maker, invested in creating a rich environment for students at Wayne State University. A junior, Will has made the most of his experience at WSU by taking chances and a willingness to "be uncomfortable". We recently...
Alumni News
The Art in Therapy Learning how to empower others through Art Therapy
By: Erecenia Friday Pediatric hospital patients are often less adept at processing trauma but Jennifer Fox is the one person who can develop creative strategies to help them take control and feel empowered. Jennifer is an Art Therapist at Detroit Childrens Hospital where she works with children receiving rehabilitation treatment and long-term care. Illness and injury can have a negative effect...