Featured Story
College Launches "Because of you, I..." and Welcomes Dean Whitman
The College of Education launches campaign of " Because of you, I… " and welcomes Russell Douglas Whitman as dean of the College of Education . Dean Whitman served as interim dean for the past eighteen months and in January, Provost Margaret Winters' announced his appointment as dean of the college. "It has been a great honor and privilege to get to know this...
Faculty, Staff & Programs
New Faculty and Staff to the College of Education
The College of Education is pleased to welcome our new faculty and staff to our college. Dr. Sarah Winchell Lenhoff, Rachael Dombrowski, Dr. Christopher Crowley, Dr. Min Yu, Dr. Ryoungsun Park and Dr. Jasmine Ulmer are featured in our Research section of this e-newsletter with their areas of expertise and research information. We would like to further welcome to the college below faculty...
Research
Expertise and Research Interest of New Faculty for the College of Education
This past August, the College of Education welcomed six new faculty members with expertise ranging from teacher education and policy studies to health education and education evaluation and research. Details regarding each faculty members' areas of expertise and research interests are highlighted below. Administrative and Organizational Studies Sarah Winchell Lenhoff , Assistant...
Outreach & Engagement News
Macomb County Career Technical Education 26th Annual Awards Celebration
Artricle Contributed By: Arlene Gibson, COE '09 On February 5, Macomb County hosted its 26 th Annual Macomb Career Technical Education Administration Association Awards Celebration where 42 students and 20 local business partners were honored for excellence in their school work while business partners were recognized for contribution to and support of career and technical education efforts...
News For Students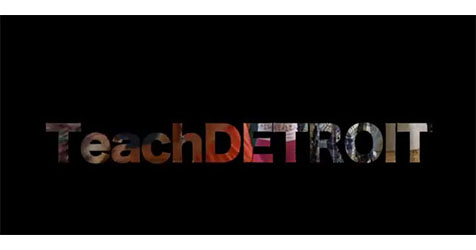 Make a Difference everyday...TeachDETROIT
TeachDETROIT launched its program here at Wayne State University College of Education in 2015, focused and designed to prepare students to be teachers in Detroit schools. There are other urban teacher residency programs around the country including Chicago, San Francisco, Boston, and Philadelphia, but TeachDETROIT is unique with its focus on preparing teachers to specifically teach in...
Alumni News
Short-hand to CEO: Kathie Sigler
Dr. Kathie Sigler, B.S. in business education '67 and M.Ed. business education '68, is a warrior who used her degree in education as a spring board that led her from managing a grant for training short-hand to the CEO of her own company. Sigler aspired to go to medical school at one point and become a doctor when she was young. Thankfully her mother knew better and told her daughter to...