Featured Story
What's new for Teacher Education and Instructional Technology
Teacher Education Division offers a Master of Education program in Teaching and Learning Eight discrete majors in the Master of Education program are being discontinued and consolidated under a new broad major of Teaching and Learning with concentrations in each of the eight areas. The change will unify the master's program with common goals and learning outcomes under the umbrella of...
Faculty, Staff & Programs
Expand your career options with an Interim Occupational Certificate
Sharing Your Professional Experiences with Students The Interim Occupational Certificate (IOC) is a teacher certification option for individuals who wish to share their industry experience and expertise with secondary students in Career Centers across Michigan. However, it is only valid for teaching in an approved Career and Technical Education (CTE) classroom. It is an excellent way...
Research
IBPRO provides unique experience to Learning Design & Technology graduate students
The Integrated course in Biology and Physics in Radiation Oncology (IBPRO) team is comprised of four Wayne State researchers: co-principal investigators Monica Tracey, Ph.D. (Learning Design and Technology Department, College of Education) and Michael Joiner, Ph.D. (Department of Oncology, School of Medicine) and co-investigators Jay Burmeister, Ph.D., (Department of Oncology,...
Outreach & Engagement News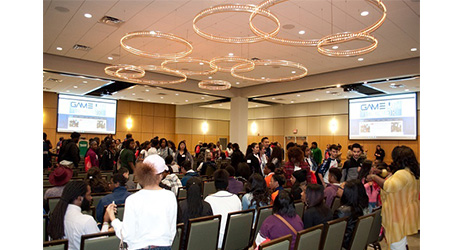 2016 Young Educators Society Spring Conference inspires students to consider careers in education
The Wayne State University College of Education Young Educators Society (YES) Planning Committee — in conjunction with the executive board of the Young Educators Society, WSU Student African American Brotherhood and the COE Pre-Morris Hood/Morris Hood organization — coordinated the YES Spring Conference, which took place on May 6, 2016, on the campus of Wayne State University. The...
News For Students
Secondary Education MAT student Ryan Kleven teaches abroad
Ryan Kleven, a Secondary Education MAT student in the Teacher Education program who will be starting his student teaching this fall, is now in Italy teaching English. Ryan started his journey on June 1 when he traveled to Assisi, Italy, to complete his orientation as a tutor for The English Camp Company . Through the program, Ryan will gain experience working with students and...
Alumni News
The college remembers alumni board member Dr. Sophie Helen Skoney
Dr. Sophie Helen Skoney, a member of the college's alumni board, died June 11, 2016, at the age of 87. She was born January 29, 1929, in Detroit to the late George & Helena (Dehmis) Kokali. She married Dr. Daniel J. Skoney in Detroit on December 28, 1957. "Through work, retirement, sickness and declining health Dr Skoney continued to serve and give to the College of Education. She was one...