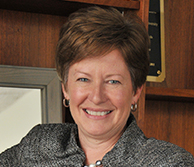 Greetings from the WSU School of Business Administration!
SUPPORTING THE ILITCH SCHOOL
Toni Tront is committed to making a WSU education possible for future generations.
FUTURE BUSINESS LEADERS

Even after 30 years, Orlando Bulluck never gave up on finishing in his degree.
ALUMNI SPOTLIGHT
Steve Strome rose through the ranks to lead one of the nation's largest music distributors.
FACULTY SPOTLIGHT
Hugo DeCampos takes his supply chain expertise from GM to the classroom.