Midtown mobility on the move
Recent mobility initiatives — including the QLINE streetcar and the MoGo public bike share system — are making it easier than ever for Wayne State students to get around Midtown and beyond. As a partner in both projects, Wayne State furthers its long-term commitment to the city and its ongoing revitalization.
Wayne State introduces Guide app to help incoming students succeed
Wayne State University is offering students an innovative way to stay on track as they work toward graduation — from their phones. The new Guide mobile app was introduced to incoming Warriors during orientation on May 13, making Wayne State the first university in Michigan to offer this exciting, student-centered technology.
In-depth series written by former journalism student wins Pulitzer Prize
An in-depth series written by a former Wayne State University journalism student for the New York Daily News in collaboration with ProPublica has won the 2017 Pulitzer Prize for public service, the most prestigious award in journalism. The series, written by investigative reporter Sarah Ryley, exposed the New York Police Department's widespread abuse of eviction rules to force hundreds of people — many of them poor minorities — from their homes over alleged criminal activities.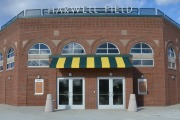 ---
---
Student resources and reminders
---
In the news
---