Wayne State awarded accreditation by Higher Learning Commission
Receiving the highest marks in every evaluation area, Wayne State University's institutional accreditation has been reaffirmed by the Higher Learning Commission. Wayne State has been continuously accredited for more than a century, and this reaffirmation validates the quality of the university's academic programs, support systems, resources and financial structure.
Discounted student parking passes approved for 2017-18
Wayne State University has announced a discount in the cost of semester parking passes for students. Effective fall 2017, the cost for student semester parking passes will be $222, a decrease of 25 percent over the planned fall 2017 rate. The lower cost was recommended by President M. Roy Wilson to help students with their overall attendance costs, and to encourage a greater presence on campus for both academic and non-academic activities.
Biology student to spend summer researching on Belle Isle
Some college students spend their spring break lounging on sunny beaches. This year, Xavier Walker spent his digging through pond muck and dissecting water mites. Walker is a research assistant in WSU School of Medicine professor Dr. Jeffery Ram's aquatic research lab, located in Belle Isle's historic aquarium.
The Billy Joel professor
When Joshua Duchan decided three years ago to write a book about Billy Joel, he hoped to score a brief phone interview with the Piano Man. Never in Duchan's wildest dreams did he expect to have lunch in the singer-songwriter's home near Oyster Bay, New York. Yet, there he was, enjoying a Caesar salad and receiving a lesson from Joel on the correct way to eat oysters.
STEM Innovation Learning Center project proposal receives state approval
A proposed STEM Innovation Learning Center, to be located in the Science and Engineering Library building, has advanced to the planning phase following funding approval by the State of Michigan. When completed, the project will transform 100,000 square feet of space into STEM learning facilities, including include flexible classrooms, seminar spaces, offices and instructional labs that are technology-rich and support hands-on and project-based learning.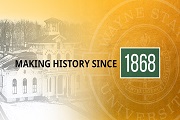 ---
---
Student resources and reminders
---
In the news
---