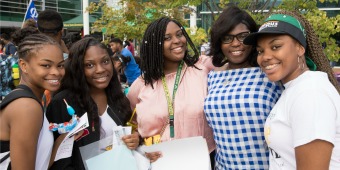 WSU graduation rates soar as new students matriculate
Buoyed by a wide range of new and traditional student support initiatives, the number of new Wayne State University students has increased for the fourth straight year. Detroit's major research university welcomed more than 7,000 new students to campus this fall. The number of first-time freshmen students is up, including jumps of 19 and 15 percent for African American freshmen and Detroit freshmen, respectively. Transfer students were also up 1 percent.
The time is now to apply for financial aid
The 2018-19 Free Application for Federal Student Aid submission process is now open. Students who have completed the admission application and filed their FAFSA by Dec. 1 will be eligible for priority consideration for merit scholarships and also be entered into a drawing to win a $500 book scholarship. The Office of Student Financial Aid is offering FAFSA Fridays, during which a financial aid officer will assist students with the filing process.
Wayne State ranked among top-tier national higher education institutions
Wayne State University has been ranked among the top-tier higher education institutions in U.S. News & World Report's 2018 Best National Universities ranking. The list includes the Best National Universities top-tier listing, composed of 300 institutions. The rankings are based on several measures of quality, including graduation and retention rates, academic excellence, faculty resources, the allocation of financial resources and more.
Black Student Union donates clothes, toiletries for Homeless 100 project
Wayne State University's Black Student Union teamed up with a variety of organizations to provide clothes and toiletries to Detroit's homeless community. Joined by Wayne State's Organization of Black Alumni, Black Faculty and Staff Association, and other community members, BSU volunteers offered hats, gloves, coats, deodorant, toothpaste and additional items to more than 80 men and women throughout the city.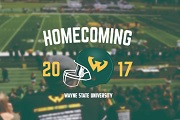 ---
---
Student resources and reminders
---
In the news
---