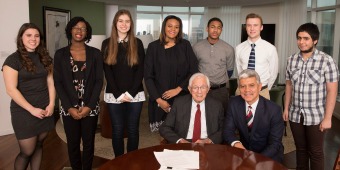 Philanthropist Mort Harris invests in future leaders of medicine at Wayne State University
Entrepreneur and philanthropist Mort Harris has committed $10 million toward the highly competitive Wayne Med-Direct program at Wayne State University. The program recruits the very best high school students with a passion for addressing health disparities among our nation's most vulnerable populations, simultaneously admitting them into an undergraduate program and Wayne State's School of Medicine with full scholarships.
Wayne State to continue 30 percent spring/summer tuition discount
Undergraduate students who complete at least 24 credits between fall 2017 and winter 2018 may be eligible for a 30 percent discount on tuition for spring/summer classes, providing families with tremendous financial savings while keeping students on track to complete their studies faster.
President M. Roy Wilson installed as new board chair of the Association of American Medical Colleges
The Association of American Medical Colleges recently announced that Wayne State University President M. Roy Wilson, M.D., is the new chair of the AAMC Board of Directors. Founded in 1876 and based in Washington, D.C., the Association of American Medical Colleges is a not-for-profit association dedicated to transforming health care through innovative medical education, cutting-edge patient care and groundbreaking research.
Dean hopes personal story will resonate with others
Ambika Mathur, Ph.D., considers herself an introvert. Which is why writing a first-person narrative for Science Magazine might seem out of character for the associate provost and dean of Wayne State's Graduate School. In the article titled, "My Second Acts," Mathur details the difficult decision she made to leave her job as a tenured professor 20 years ago to raise her twins and then return to academia.
New Warrior VIP program helps incoming freshmen engage early and visualize success
As part of Wayne State University's ongoing commitment to ensuring student success, the university has introduced the Warrior Vision and Impact Program, a comprehensive student support program and learning community designed to help incoming freshmen successfully transition into college, excel as students and graduate on time.
---
---
Student resources and reminders
---
In the news
---