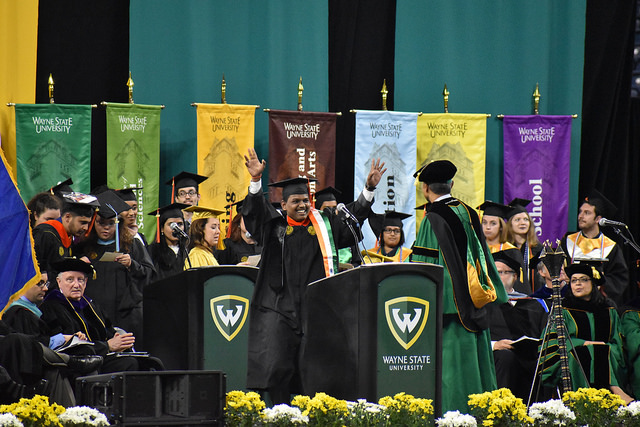 Wayne State University board approves 2019 budget; tuition increase below state tuition cap
Wayne State University's Board of Governors has approved a general fund operating budget of $655 million for fiscal year 2019 that calls for a tuition increase of 2.9 percent. This translates to $10.84 or less per credit hour for all undergraduate students, and keeps the increase well below the state's tuition restraint cap of 3.8 percent. The overall operating budget includes a 7.1 percent increase in financial aid, bringing Wayne State's annual institutionally funded financial aid to $79.4 million — an increase of more than 200 percent over the past decade.
WSU offers former students with debt — but no degree — a way back
Wayne State University has launched the Warrior Way Back program, a novel approach to re-engage students who left the university with debt and without a degree. In creating a new approach to university debt forgiveness, the Warrior Way Back will allow returning students to complete their degrees, meet growing demand for an educated workforce and support Detroit's economic renaissance.
Figuring It Out: How the Center for Excellence and Equity in Mathematics is turning out scholars while closing the achievement gap
Walking into Wayne State University, Darryl Gardner was optimistic and, to his mind, already prepared for his future in a STEM field. Then an aspiring engineering major, Gardner had what he thought was a solid foundation in mathematics. After an underwhelming performance on his college placement exam earned Gardner a spot in remedial math, he quickly realized that he wasn't nearly as prepared for college-level calculations as he originally believed. Through the university's Center for Excellence and Equity in Mathematics, Gardner completed a series of programs, from remedial to advanced, that not only sharpened his skills but reignited the love for math that had dimmed after he started college.
Wayne State and partners aim to radically improve health outcomes in Detroit
At the Mackinac Policy Conference on May 31, Wayne State University President M. Roy Wilson pledged $1 million — along with the university's extensive research expertise — to radically improve health outcomes in Detroit. Wilson also floated the idea of collaborating with hospitals and other universities to create a school of public health in Detroit, further underscoring Wayne State's commitment to community health.
Annual Baroudeur and training rides bring together Warrior community
They come from all walks of life — but they ride together. In preparation for the fourth annual Baroudeur — Wayne State's cycling event in support of student scholarships and the HIGH Program — a group of dedicated and diverse cyclists gathers for weekly training rides on Tuesday evenings. The training rides, which preview much of what participants will see during the Baroudeur on Aug. 18, have brought together many members of the Wayne State community.
---
---
Student resources and reminders
---
In the news
---