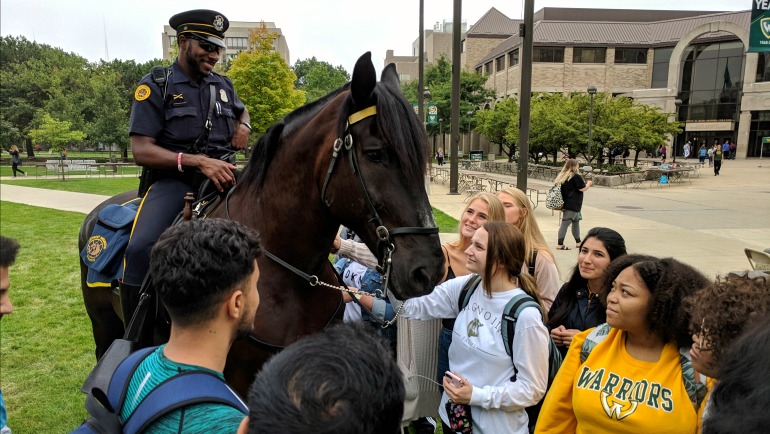 Officer saddles up, builds community connections
Wayne State police officer Brandon Murphy and his partner, Andre, have become accustomed to students and staff flagging them down for a selfie. It has become a daily event as they patrol the Midtown area. After all, it's not every day you see a police officer and his horse walking down a city street.
Henry Ford Health System, Wayne State University sign letter of intent for expansive partnership
Henry Ford Health System and Wayne State University announced that the organizations have signed a letter of intent (LOI) to expand their long-term partnership and bring two Detroit anchor institutions even closer together. This new partnership will create a collaborative model focused on achieving the highest levels of excellence in patient care, a transformational approach to research and community health, and an innovative curriculum for the education and training of the next generation of medical and health professionals.
Enrollment remains strong, steady
Backed by the university's largest full-time freshman class in its 150-year history — due in part to increasing graduation rates in the midst of a competitive recruiting environment — Wayne State University's enrollment has remained strong and steady this fall. Current enrollment is now 27,053.
Global UGRAD student from Israel declares Detroit 'one of the coolest places in the world'
Undergrad Mohamed Arar of Israel was unfamiliar with the American phrase "paying it forward" until he shared a heartwarming encounter after helping a homeless man at a local bus stop. Arar, 23, says that in a gesture of goodwill he had given all the change from his pocket to the man, not realizing the bus farebox wasn't equipped to accept certain bills or credit cards. Suddenly he realized that, without the change he just gave away, he couldn't pay for his own bus fare. He was stuck.
Students, families encouraged to download the Corq mobile app
Students and their families are encouraged to download the new Corq mobile app. Corq enables students to discover amazing events, student organizations and more from their mobile device. Within the app, students can find their individual Event Pass which allows quick access to events and free campus swag.
Anthropology students team up with Chevy to encourage safer driving behaviors
A team of Wayne State University anthropology students held a vital role in the development of Chevrolet's new app designed to encourage safer driving behaviors – keeping your hands on the wheel and eyes on the road. The app, called Call Me Out, plays a personalized audio message from a friend or loved one when a driver attempts to use their phone in a moving vehicle.
---
---
Student resources and reminders
---
In the news
---