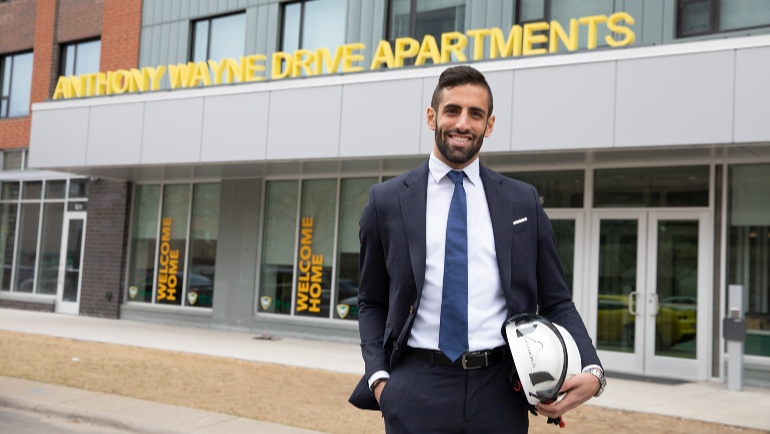 Engineering student builds future for self, university
Mahmoud Abuqalbain '18 came to Wayne State to build his future. He never dreamed he would help build the university's along the way. Born and raised in Amman, Jordan, Abuqalbain made the decision at 16 to come to the United States to continue his education. He decided on Michigan, mostly out of necessity. While earning both his undergraduate and graduate degrees in the College of Engineering, Abuqalbain has been working in the field as a project engineer to help build the Anthony Wayne Drive Apartments and STEM Innovation Learning Center.
Falcon cam helps WSU biology research soar to new heights
A pair of peregrine falcons have called WSU's iconic Old Main home for the last several years. Now, thanks to a few generous supporters, the Department of Biological Sciences and the College of Liberal Arts and Sciences, a new webcam near the nesting site will allow researchers and the public alike to monitor these fascinating birds of prey.
Farmers Market returns to campus
The Wayne State University Farmers Market returns June 12 and will continue weekly until the end of October. Located on the corner of Woodward and Warren avenues, the market shares greenspace with the newly completed Woodward | Warren Park. The addition of new landscaping, seating, games and a welcome kiosk enhance an already popular Midtown hangout.
Honors College dean gifts $50K for 50th birthday
When some people turn 50 years old, they buy themselves a Corvette. Not John Corvino. Instead, for his milestone birthday, Corvino decided on a present that would benefit someone other than himself. The Dean John Corvino Endowed Scholarship was established to go toward educational expenses for an Irvin D. Reid Honors College student in their junior and senior years.
Register now for K-12 summer camps at Wayne State
Registration for K-12 summer camps is now open and scholarships are available. More than 90 programs are being offered, from weeklong day camps to overnight camps, with focus areas including music, dance, athletics, career preparation, STEM, entrepreneurship, CPR, cybersecurity, forensics and more. For the first time, Wayne State will provide scholarships to cover the full cost of STEM-related camps for students who qualify for free or reduced lunch.
---
---
Student resources and reminders
---
In the news
---