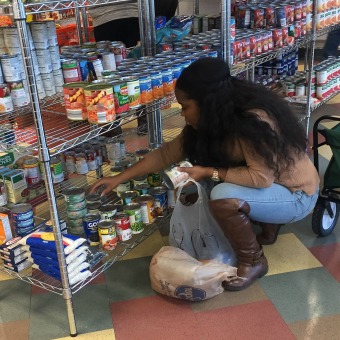 WSU campus pantry now open
Wayne State University has launched a campus pantry, The W, to provide perishable and nonperishable goods, toiletries, women's hygiene products and other supplies to WSU students facing food insecurities. The W, which will be located on campus at 703 W. Kirby will provide students free access to nutritious food. All students who are currently enrolled or making progress toward a degree are eligible to visit the pantry twice a month for up to two grocery bags of food and supplies. A third access will be granted based on emergency need.
Political science student lends voice to underserved on campus and beyond
Sophomore Dalia Ibrahim is working to make an impact at Wayne State before she goes on to change the world. Ibrahim, a political science major, has dedicated much of her time as an undergrad to helping marginalized populations both on and off campus. With a small group of students, Ibrahim started the WSU organization Help the Homeless to provide assistance to Midtown's homeless population.
Metro Detroit gets grant for historic study of black cancer survivors
The Karmanos Cancer Institute and the Wayne State University School of Medicine received a five-year grant to begin the nation's largest-ever study of African-American cancer survivors — men and women — to examine why black people have a higher incidence of, and death from, cancer than other races. The National Cancer Institute wants to use the study to develop national strategies to prevent and combat cancer in African Americans. The study, funded by a $9-million grant, will include 5,560 cancer survivors and 2,780 family members from Wayne, Oakland and Macomb County.
Apple Watch App of the Year created by Wayne State business grad
Wayne State University Mike Ilitch School of Business alumnus Fares Ksebati is the co-founder and CEO of MySwimPro, which was named the 2016 Best Watch App of the Year by Apple. MySwimPro is an app that helps swimmers of all levels achieve their goals through custom workouts. Users can also learn techniques from videos within the app and receive analytics for each swim. Ksebati, who graduated in 2013 with a B.A. in marketing, has been a lifelong swimmer and, in recent years, a swimming coach. He said most swimmers can't afford one-on-one coaching, and finding a personalized training plan is difficult.
---
---
Student resources and reminders
---
In the news
---