Director of Wayne State Center for Social Work Research named fellow of national social work society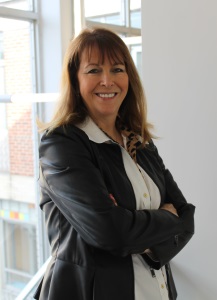 Joanne Sobeck, associate dean for research with the Wayne State School of Social Work and director of its Center for Social Work Research, was named a member of the 2018 Class of Society for Social Work and Research (SSWR) Fellows.
A member of Wayne State's social work faculty since 2000, Sobeck was inducted into the fellowship program during SSWR's 2018 Annual Conference, which was held Jan. 10-14 in Washington, DC. Fellows are SSWR members who have aided the society in its mission to advance, disseminate, and translate research that addresses issues of social work practice and policy and promotes a diverse, equitable and just society. Recognized for their individual accomplishments, leadership, and contribution to SSWR as a scientific society, SSWR fellows serve as role models and mentors for individuals pursuing careers in social work research.
Sobeck has distinguished herself through her own body of research and through her oversight of the university's research and evaluation activities. Prior to joining the School of Social Work, she served for nearly 15 years as research coordinator for the Wayne State School of Medicine Addiction Research Institute. While there, she conducted research examining predictors of adolescent alcohol and other drug use and tested prevention strategies implemented in large community contexts and school-based settings.
Since joining the Wayne State University School of Social Work, her research has expanded to include capacity building with nonprofit organizations, applications of evidence-based programs in community settings, and processes related to program development, implementation science, and evaluation. She has served as director of the School of Social Work's research center for the past decade, during which time the school has significantly strengthened its community presence and partnerships and undertaken large-scale research and evaluation projects with local, state and national impact. Among these are Social Work's involvement in Wayne State's interdisciplinary Flint Area Community Health and Environment Partnership (FACHEP) and federally funded initiatives to increase and strengthen Southeast Michigan's child welfare and mental health workforces, evaluate Michigan's response to the opioid crisis, and prevent teen dating violence.
Sobeck has also fostered a strong culture of research collaboration between students and faculty, encouraging hands-on quantitative and qualitative research experience at the undergraduate and graduate levels. Among other things, the school has created the Social Work Student Research Community to partner students with faculty who share their research interests and to help students pursue opportunities to publish and present.
"It is an honor to be recognized as a SSWR Fellow," Sobeck said. "I hope that we can continue as a school and research society to provide an environment of support for our colleagues and students to pursue research that will make a difference, whether it is improving treatment, engaging citizens in community development, or creating just policies for all to succeed."