Committed to the success of the Detroit Public Schools Community District
Wayne State University has deep connections with Detroit public schools and is actively invested in the health and success of Detroit students.
Lately, many questions have surfaced about how best to continue to educate students in a world of social distancing and remote learning. One thing we all agree on, however, is the importance of that education to our children and our community. Wayne State has long had a strong collaboration with the Detroit Public Schools Community District (DPSCD), and that continues today — even in a pandemic. Our connection with DPSCD mirrors our deep connection with the city, a critical aspect of the university's mission.
Wayne State and DPSCD actively collaborate on many programs that support Detroit students and teachers in numerous aspects of their education, growth and professional development.
Wayne State helps equip DPSCD students for college success in numerous ways:
Upward Bound, celebrating its 55th year at Wayne State this fall, provides instruction, tutoring, academic and career guidance, and counseling to more than 150 low-income and first-generation college-bound DPSCD high school students every year.

The Kick Start College program provided a free summer English or communication class to 500 high school graduates — including more than 100 from Detroit high schools — entering Wayne State this fall to prepare them for college in a virtual learning environment.

Once students become Wayne State Warriors, the Warrior Vision and Impact Program (Warrior VIP) uses peer mentorships, on-campus experiences, workshops and seminars to help students transition to college life and thrive in their studies. More than 330 students participated in the program's first three years, and 220 have already signed up for this fall's program.
Wayne State helps develop DPSCD educators:
TeachDETROIT embeds College of Education students inside DPSCD schools to learn from and work alongside outstanding mentor teachers, preparing them for future careers and providing academic support to local schools. More than 30 students have graduated from this program and gone on to become teachers in Detroit.

The Metro Detroit TRUE Project prepares teachers to provide STEM education and embeds them in a DPSCD or Dearborn Public Schools high school for a yearlong residency. Starting this fall, six residents from the first cohort will work with teachers and students at Western International High School.

DPSCD and WSU's teacher education program have partnered to prepare teachers pursuing an endorsement in English as a second language (ESL) or bilingual education. This year's cohort of 21 teachers will be better equipped to support students' language development and academic achievement.

The Warrior Teachers Alternative Certification Pathway enables individuals with bachelor's degrees to become certified teachers in one year. This program includes eight long-term substitute teachers from DPSCD participating in its first cohort, starting this fall.

Wayne State values the opportunity for future teachers to be a part of the communities they serve. Through a partnership with DPSCD, Wayne State College of Education students work with the district's educators and students as a central part of their teacher preparation program. For the upcoming fall semester, 32 teacher candidates will be placed in DPSCD schools for pre-student teaching and student teaching at a variety of levels.

Since 2017, the Dream Keepers urban teacher residency program has prepared two cohorts of teachers to teach in DPSCD, providing a pathway through which Detroit substitute teachers holding bachelor's degrees can earn a master's degree or postbaccalaureate certificate.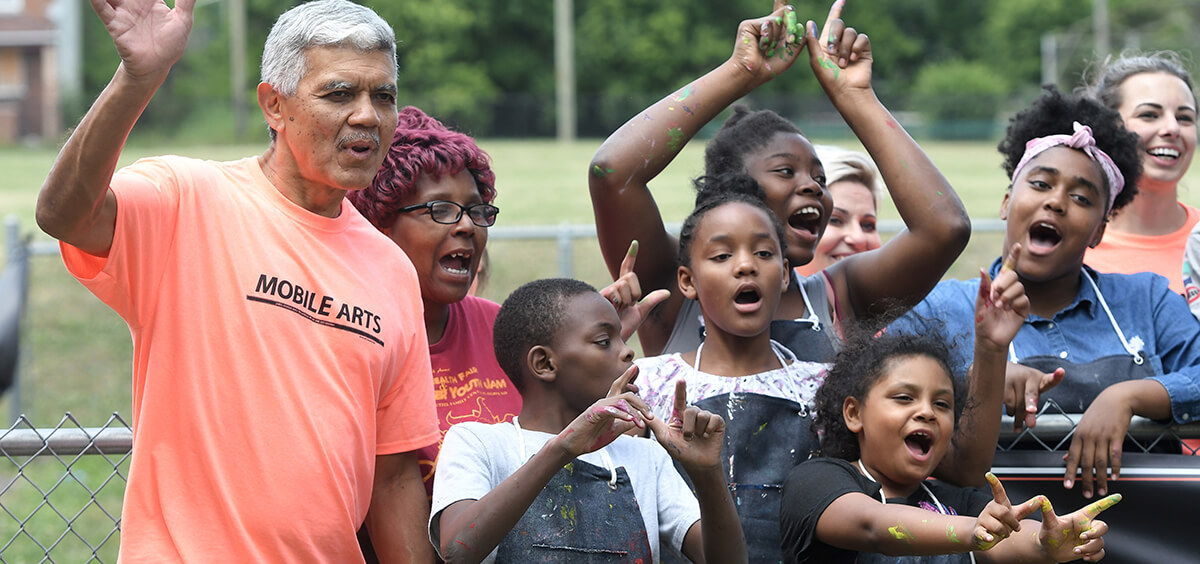 Wayne State supports Detroit students' health and well-being:
The Building Healthy Communities initiative has helped students increase physical activity and improved nutrition for more than 150,000 Michigan children — including those in more than 50 DPSCD elementary schools — over the last 10 years.

The Detroit Healthy Youth Initiative has taught students the importance of eating nutritiously and making healthy life choices in 128 DPSCD schools since 2002, reaching more than 19,000 Detroit students.  

Kids Work It Out, which merges yoga practice, mindfulness, social and emotional learning, trauma coping, and nutrition education, has impacted 16,000 local children in more than 30 DPSCD schools since 2007.  

The Community Health Pipeline provides a career-development pipeline that prepares Detroit high school youth to enter college; obtain well-paying jobs; and change the health, economic and social trajectories of their communities. It has operated in seven DPSCD high schools — affecting nearly 21,000 children — since 2016.
Wayne State prepares students for the future of work in STEM and other challenging fields:
Wayne State is the largest university provider of K-12 engagement and support in Detroit through programs that occur in schools, in neighborhoods and on campus. Our academic and career outreach programs reach 14,500 K-12 students from throughout the Detroit region every year.

Wayne State was the first university in the Midwest to partner with the SMASH Academy, which brings Detroit high school students to campus to live for a month every summer over three years to receive a rigorous STEM experiences and college application supports.

Wayne State's C2 Pipeline offers afterschool programming, annual summer programs, and the Innovation & Curiosity Center (STEM Lab) for more than 350 Detroit high school students across more than 10 schools.

Over the last four years, nearly 7,000 middle school students from throughout the Detroit area have attended Wayne State's annual STEM Day. Similarly, more than 10,000 area high school students have received an early glimpse at college over the last eight years through WSU's annual AP Day, in which they attend lectures given by Wayne State professors on a variety of topics including chemistry, biology and computer science.

The Silas Norman Medical Scholars Program brings together middle school students for summer academies and monthly workshops to prepare them for high school science classes and introduce them to careers in medicine.

The College of Engineering Summer Academy offers summer camps designed to teach more than 500 Detroit-area elementary, middle and high school students engineering and computer and information science skills.

WSU Math Corps is a combined academic and mentoring program that has been phenomenally successful, assisting more than more than 400 Detroit public and charter school students each year since 2003.

High school graduation rates for Math Corps participants are estimated to be about 90%, with 80% going on to college.

Detroit high school students who participated in Math Corps for at least three summers performed better on the ACT exam than other Detroit students.

This summer, Math Corps created a fully virtual program and distributed 400 tablets and book bags filled with study materials to ensure that students were able to fully participate in this critical, award-winning enrichment program.

All DPSCD high school students who have conducted original research in STEM are invited to participate in the Southeast Michigan Junior Science and Humanities Symposium (JSHS) hosted by Wayne State for more than a decade. In 2020, a student from DPSCD Benjamin Carson High School was an award finalist for her poster presentation.

Wayne State's College of Fine, Performing and Communication Arts supports the Detroit Urban Debate League (D-UDL), which provides opportunities for Detroit-area high school students to prepare for and compete in policy debate tournaments. D-UDL participants have held a 100% high school graduation rate since 2009. 

The Biomedical Career Advancement Program (BCAP) introduces Detroit high school students to research and careers in health science through a multiweek immersive summer experience. BCAP students participate in laboratory training and informational sessions with a focus on the college admission process, careers in health science, and opportunities to build professional networks with Wayne State University faculty and staff. 

During the pandemic, we remained committed to the students of Detroit and the metro area and converted nearly 80% of our more than 200 K-12 summer offerings to "all-access" free and sponsored online learning programming. Approximately 75 scholarships were awarded to students to support their participation in these summer programs.

A summer 2020 collaboration between Microsoft, Quicken Family of Companies and the Irvin D. Reid Honors College engaged 22 DPSCD high school students in virtual STEM experiences to help them discover new career possibilities.

Wayne State hosts events and summer camps for Black Girls Code, a nationwide program that helps young women develop computer science and technology skills.
Wayne State is committed to removing financial hurdles for DPSCD students:
The Heart of Detroit Tuition Pledge offers free tuition for 2020 graduates of Detroit high schools or Detroit residents earning a high school diploma in 2020. Heart of Detroit builds upon a long history of initiatives to remove financial obstacles, such as the Detroit Promise and Wayne Access awards, as well as merit scholarships.

WSU distributed more than $351M in financial aid in 2019, an average of more than $10,400 per award.

The Future Teachers High School Dual-Enrollment Pathway recruits high school students into the teaching profession by having them take college-level coursework that fulfills teacher education major requirements. This special agreement with DPSCD reduces the WSU dual-enrollment tuition rate by 50%.

Recognizing the challenges students face due to the COVID-19 pandemic, particularly in hard-hit urban areas such as Detroit, the Wayne State University Board of Governors unanimously approved a 0% tuition increase for the fall 2020 semester.
While these are some of our most prominent programs, this list is far from exhaustive. Wayne State is proud of its long history of partnership with DPSCD, and looks forward to continuing these and other initiatives in the future.
Patrick O. Lindsey
Vice President
Government and Community Affairs